How to Donate
Giving a wounded veteran the chance of a brighter future costs just a fraction of what was spent training them to defend our country.
That said, real futures require real investments and so your support is invaluable to our work. Every penny will go directly into giving back to those who have already sacrificed so much for us. Please help!
We are currently accepting donations via PayPal. However, you don't have to create a PayPal account if you don't have one. You can just use your existing Debit/Credit card.
WFW Wristbands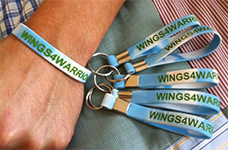 For a minimum donation of £2.50 (plus 50p P&P), we will send you a wonderful Wings4Warriors wristband that you can wear to show your support. Just use the link before to make your donation.
For any assistance, please email This email address is being protected from spambots. You need JavaScript enabled to view it. to order your W4W goodies!